"Anyone who falls on this stone will be broken to pieces; anyone on whom it falls will be crushed."

Matthew 21:44 (NIV)
In this verse, Jesus spoke to the chief priests and the Pharisees. He had just told them two parables about rejecting the Messiah and then plainly told them, "Therefore I tell you that the kingdom of God will be taken away from you and given to a people who will produce its fruit" (Matthew 21:43 NIV). After these parables, the chief priests and Pharisees wanted to arrest Jesus because they knew he was talking about them. However, they were afraid of the people because they thought Jesus was a prophet.
We know that Matthew 21:44 is about the chief priests and the Pharisees. Furthermore, this verse describes what will happen to them because they rejected Jesus as the Son of God. Indeed, the context surrounding the verse reveals this. However, does this verse apply today? After all, the Jews were offered salvation first, and because they rejected Jesus as the Messiah, it was offered to the Gentiles. Therefore, can we really apply Matthew 21:44 to us (Gentiles)?
In this verse, the stone is Jesus and his ministry, which falls on two types of people. The first is those who were offended by the Messiah and rejected him but then turned and received him, while the second is those who are crushed, continue to deny the Messiah, and persecute those who accept him. Both are "damaged" by the stone. The first is "broken to pieces," and the second is "crushed." The King James translation says the second group will eventually be ground into powder.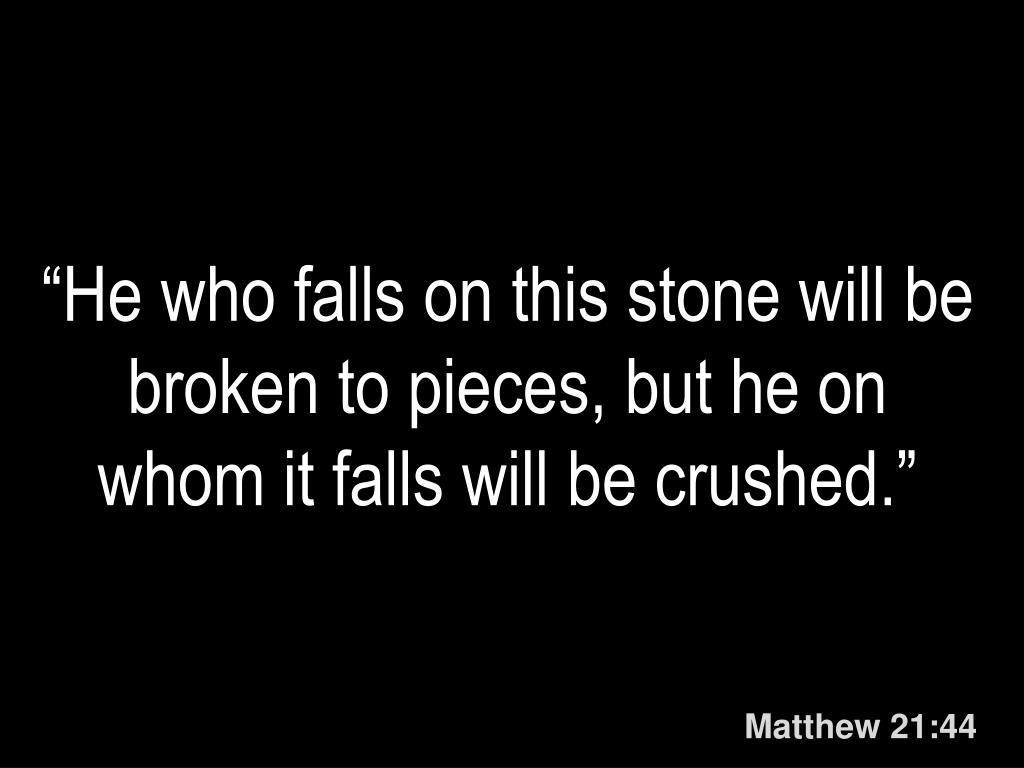 When we consider the two classes of people described in Matthew 21:44, we can see that those types of people exist today. In fact, anyone who hears the Gospel message and doesn't come to Christ when they first listen to it falls into the first category. Without a doubt, I fall into the first category. I went to church for five years or so before I was saved, and during that time, I rejected the Lord every time I went to church. Yet, here I am today, saved by the grace of God. Hallelujah!
I see those who rejected the Lord within the second group, but their rejection isn't enough. Instead, they encourage other people to not believe in God and consciously work against the Lord. One day, like every other knee, theirs will bow down before the Lord, and they will be crushed. It will be terrible enough for those who rejected Jesus in their lives but for those who rejected him and persecuted those who believed in him. I shudder when I think about their fate.
Therefore, when we consider the original audience of Matthew 21:44 and the types of people described by this verse, we can apply it today to those who reject the Lord.
If you don't know God, then know that God knows you and loves you. God doesn't want anyone to perish but for everyone to come to repentance so they can spend eternity with him. If you want to know God and be saved from your sins, then pray this prayer with me to accept the gift of salvation:
Lord Jesus, forgive me for all my sins. I sincerely repent from my ways. Wash me in your blood and cleanse me from all unrighteousness. I believe you died on the cross and were buried, and God the Father raised you from the dead on the third day. Right now, Lord Jesus, I open the door to my heart and receive you into my heart as my Lord and personal Savior. Amen.
If you prayed that prayer, then congratulations! You are on the first step of a brand new life. Allow me to be the first to welcome you to my family, the family of God. There are abundant resources available online for new Christians. You can visit here for more information on what to do next. You can also leave me a comment, and I'll do my best to help you on the next step of this incredible journey.